2020 Women Forward Awards Celebration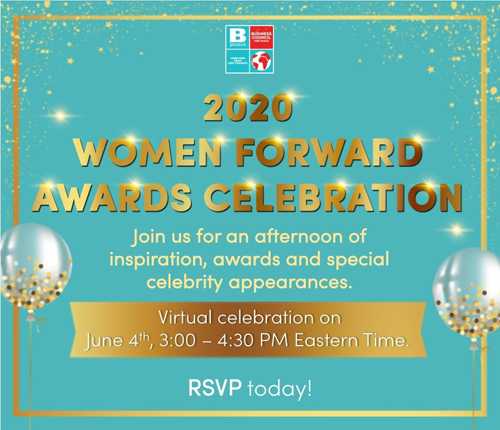 Join us on June 4th to recognize the Gold, Silver and Bronze Women Forward Award-Winners with a virtual awards celebration! 
Cheer for your award-winning friends, family and colleagues as we recognize the trailblazing organizations and inspiring individuals who are leading change and providing mentorship, capital and support for women to thrive in the workplace and in society.  
To register for the June 4th celebration we ask that you make a donation to Bpeace in support of our international mentoring program for businesswomen in crisis-affected communities and our Bpeace Build Back Better initiative to address the unique challenges businesses everywhere are now facing. 
The donation amounts offered are suggestions only. Please feel free to customize your donation to what feels right for you!
With your donation of $30.00 or more you'll receive admission to the June 4th event at 3:00 PM and a digital copy of Bpeace's new book: "Women Forward: The 2020 Playbook". 
"Women Forward: The 2020 Playbook" includes a full chapter dedicated to each of our Women Forward Gold Award Winners. First-hand accounts and quotes from Silver and Bronze winners are also included.  
We will email you a link to the virtual event 24-48 hours before the celebration. 
Questions about event registration? Contact Caroline Basso at 607.222.5791.
Special thanks to our partners: The Aspen Network of Development Entrepreneurs, Business Wire, The Eleanor Roosevelt Center at Val-Kill, Ellevate Network, Plum Alley Investments, Rutgers Institute for Women's Leadership and WITI.
Our outstanding Bpeace Women Forward Awards Blue Ribbon Judges include: Laurie Chock, President, Chock Global Communications; Ji Son Choi, Partnership Solutions Director, Worth Media; Matt Cooper, CEO, Skillshare; April N. Gozza, Executive Director, Eleanor Roosevelt Center at Val-Kill; Lisa Hetfield, Associate Director and Director of Development, Rutgers Institute for Women's Leadership; Sally Potts, Senior Analyst, PricewaterhouseCooper LLP; Kathryn Reed, Chair of the Board of Directors, Eleanor Roosevelt Center at Val-Kill; and Karen Vander Linde, Executive Mentor, Merryck & Co.