U.S. Retail: 68% Of Sales Take Place On Mobile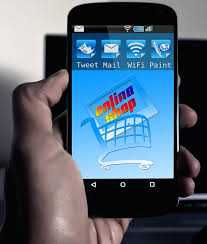 These days, search and mobile-first on-the-go shoppers dictate the digital marketing strategies that brands and retailers execute across all channels. Thirty percent of U.S. desktop transactions are now preceded by a click on a mobile device.
The data from the Criteo Global Commerce Review for Q3 2017 explores the "winding" path shoppers take to purchase and the numerous devices, browsers and apps they use to accomplish the task.
Criteo analyzed more than 5,200 retail businesses globally and billions of annual transactions to determine the impact of mobile commerce on today's shopper habits and preferences. It also includes an interactive global map, which aggregates regional data and key findings.
The numbers that show the strength in mobile transactions completed on a smartphone demonstrate the media's strength. Mobile transactions rose 9% in the third quarter of 2017, compared with the year-ago quarter. Tablet use fell slightly during the same time period, as smartphone screens continue to grow in size.
Retailers say they saw the largest gains in mobile transactions in Q3 2017. For example, the sporting goods sector grew 45% -- up from 29% in the year-ago quarter -- and health and beauty, 38%, up from 30, respectively.
Globally, advertisers generating transactions on mobile websites and in apps see more than 50% of transactions completed on mobile.
In the U.S., advertisers see 68% of sales taking place on mobile devices. Apps account for 71% of mobile transactions for retailers that invest in both mobile web and in-app campaigns.
Daily and hourly buying trends underscore the importance of the ability for retailers to execute campaigns on all screens, 24 hours a day, based on the behavioral patterns of core shoppers.
While desktop browsing still dominate weekday working hours, smartphone and tablet browsing generates 37% and 46% more sales on Sunday, respectively. In the early evening, these same devices generate 35% and 47% more sales, respectively. 
Cross-device data allows marketers to understand the winding customer journey. Some 41% of post-click desktop transactions, in total, come from another device.
Combining cross-device data to better understand and target shopper intent allows marketers to capture higher-value shoppers. This is most apparent in the high tech/computing and health/beauty verticals.