Safari leads U.S. mobile web traffic, but Facebook is gaining on Chrome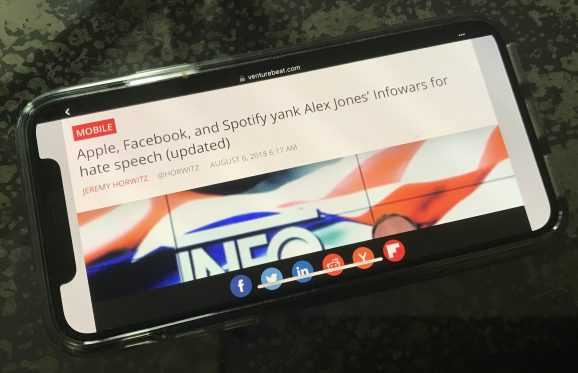 Android's international footprint has been so strong for years that it was once hard to imagine Apple's mobile operating system dominating even a single country, but iOS is currently the leading mobile OS across every one of the 50 United States, and Safari is the top mobile browser in 49 of them, says analytics firm Mixpanel (via 9to5Mac). Another surprise: Facebook's in-app browser is growing in popularity, and now ranks third behind Google Chrome.
Mixpanel's study of millions of U.S. mobile device users suggests that iOS now represents nearly two-thirds of the mobile market. The current split is 65.5 percent to Android's 34.46 percent, leaving very little space for "other" devices.
But as users on each platform — particularly Android — have the choice between multiple browsers, another interesting story has emerged: Facebook's rise as a potential gatekeeper to the web. Through its own app, the social network now represents 8.82 percent of mobile web traffic. That's small compared with Chrome's 32.48 percent and Safari's 58.06 percent, but still significant: Most people don't even think of Facebook as a web browser, yet it's responsible for nearly 1 in 10 web page views on mobile devices.
Facebook's role as a filter or source of information has been the subject of strong public debates over the past couple of years, particularly as its users have been targeted by "fake news" and other political disinformation campaigns. As TechCrunch points out, the social network now has roughly 10 percent market share in 15 states, which "is notable because it means many people in those states are using Facebook as their main point of consuming online content."
While that might not be entirely accurate — someone who relies primarily on Safari, Apple News, or Flipboard might also view a few pages through Facebook — it does suggest how strong of a role Facebook is taking on iOS and Android devices. We noted last month that Facebook's eponymous app dominated the iOS App Store for its first decade, and that Facebook-controlled apps were four of the Store's five top free apps during that period.
Facebook's growth is interesting, but it doesn't have second-place share in any state — that honor is held almost universally by Chrome. Only one state, Wyoming, saw more mobile Chrome than Safari browsing, with a 65.94 percent to 30.07 percent share in Google's favor. By comparison, Alaska, Connecticut, and Rhode Island all had 75 percent or greater Safari usage versus Chrome.
Interestingly, though Microsoft's standalone browser Edge has been available for nearly a year on Android and iOS devices, it hasn't won comparable interest from mobile users. Edge is part of the "other" browsers category, collectively accounting for a total of 0.64 percent of mobile browsing, Mixpanel says, leaving the once-dominant Internet Explorer maker with a considerable task ahead in winning over mobile browser users.