PitchBook-NVCA Venture Monitor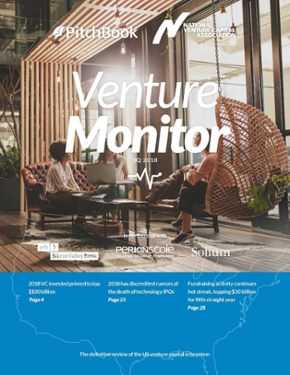 The 3Q 2018 PitchBook-NVCA Venture Monitor, written in partnership with Silicon Valley Bank, Perkins Coie and Solium, offers an analysis of trends appearing in the venture capital asset class. Analysts provide updates on exit and fundraising activity and break dealmaking down by stage, region, and sector, looking in particular at growth equity deals and deals with corporate VC participation. This edition also weighs in on PE involvement in VC deals, private investment into space ventures and the merits of tender offers.
Key highlights:
2018 VC invested is primed to top $100 billion. As of 3Q, 2018 is already at record levels since 2006. Mega-deals of at least $100 million are becoming increasingly prevalent, with 143 such financings closed, a 38.8% increase over 2017.
2018 has discredited rumors of the death of technology IPOs. With IPO count exceeding that of 2017, this exit strategy continued to be a bright spot in 3Q. Strong performance from recent public market debutantes encouraged some companies on the fence to go forward with the IPO process.
Fundraising activity continues hot streak, topping $30 billion for fifth straight year. Large funds are further becoming the new normal. Of the 214 funds closed this year with a known fund size, 41.6% are larger than $100 million (compared to 33.5% in 2015). Volume of funds is also trending positively in 2018, with the potential to break 300 funds closed in a year for the first time since 2016.